Koraly: "I say the wrong things all the time"
What if society expects you to be someone you're not? Koraly spent most of her life just doing what she was supposed to. But now she is starting to speak. She's not sure if she should though. It always comes out wrong…
A story of love, family, culture, and the pressure to conform in the face of one's true self.
In November 2016 Koraly Dimitriadis had her debut premiere season of her first one-women poetic play, Koraly: "I say the wrong things all the time" at Melbourne's La Mama Theatre Courthouse to much acclaim and praise. Directed by the talented international director, Olga Aristodemou, music design by Christian Bianco and lighting by Helen Papadomanolakis, the play is written, created and performed by Koraly and includes Greek dance and multimedia projections. Koraly hopes to tour the show in the future. Proudly supported by The Greek Centre, Vanilla Cafe and Easy Tiger Studios. The play was also in the top picks for shows to see in The Age.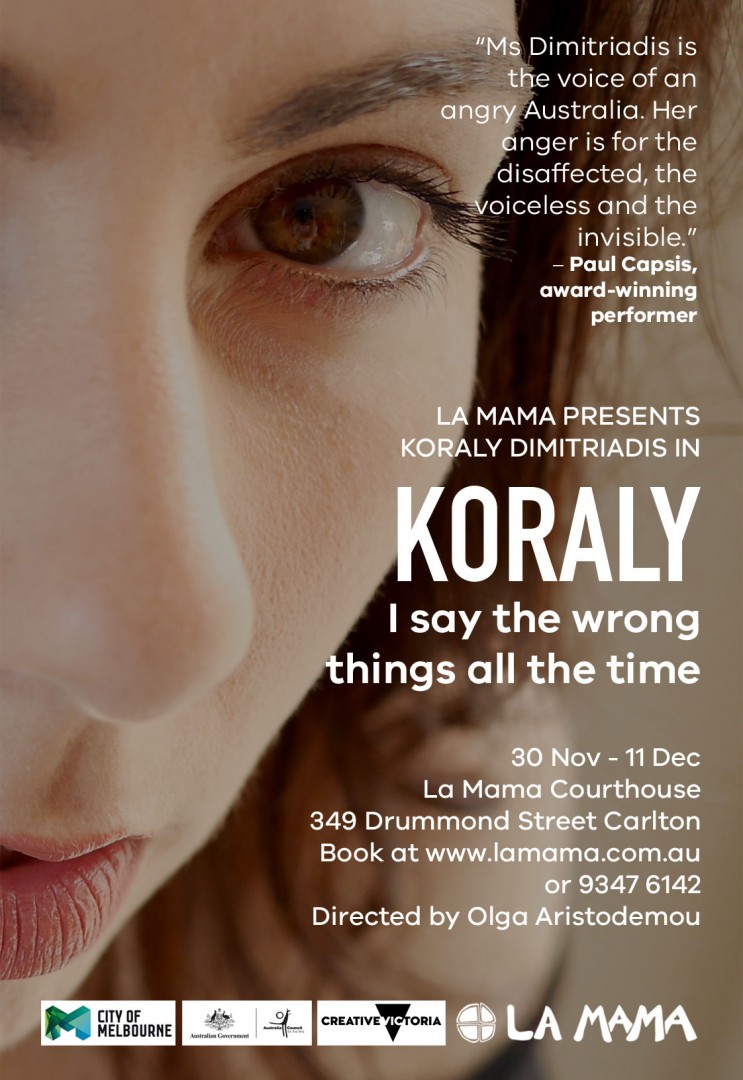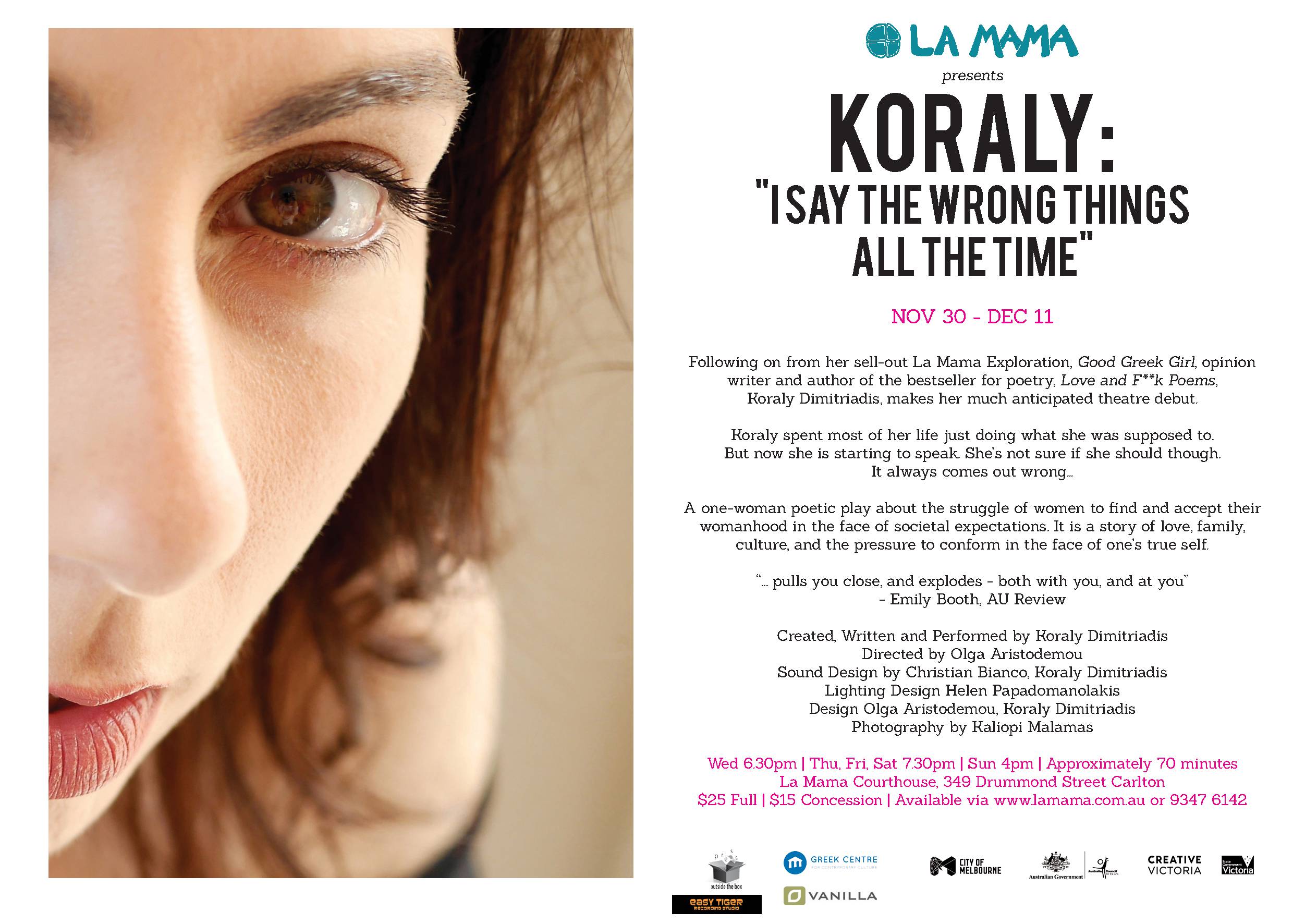 All photography by Di Cousens except pic with multimedia projection by Genevieve Ackland.
"She is merciless…KORALY: "I say the wrong this all the time" is astounding…powerful acting…a play of pure emotion and passion, a determined endeavor to enlighten every woman to strive for self love, self-acceptance, to not tolerate being silenced and to stand up against any form of female subjugation, very charismatic theatre, I enjoyed it immensely."
– Stage Whispers Read full review
"Dimitriadis successfully highlights the contradictions in trying to 'authentically' belong through a keen juxtaposition between the feminist struggle to reconcile politics with personal pleasure, and the cultural struggle to reconcile 'Australian-ness' with being a 'daughter of migrants'."
– Theatre People Read full review
Other reviews: Daily Review and Melbourne Spoken Word.
History : Good Greek Girl
In 2013 Koraly showcased her work-in-development
Good Greek Girl
at La Mama Theatre as part of their explorations season, selling out to a compelled audience.
Koraly wrote, directed and performed in the poetic monologue. Following on from their collaborative performances, Nick Tsiavos accompanied Koraly on double bass. The show incorporated her film, Greek dance, Greek music and a song she wrote with UK singer/songwriter, Melpomeni for her poem 'Surrender'.
Good Greek Girl formed the basis for Koraly's premier season at La Mama Koraly : "I say the wrong things all the time". Koraly would like to thank Paul Capsis and Katerina Kotsonis for mentorship and guidance.
Read a review by Ania Walwitz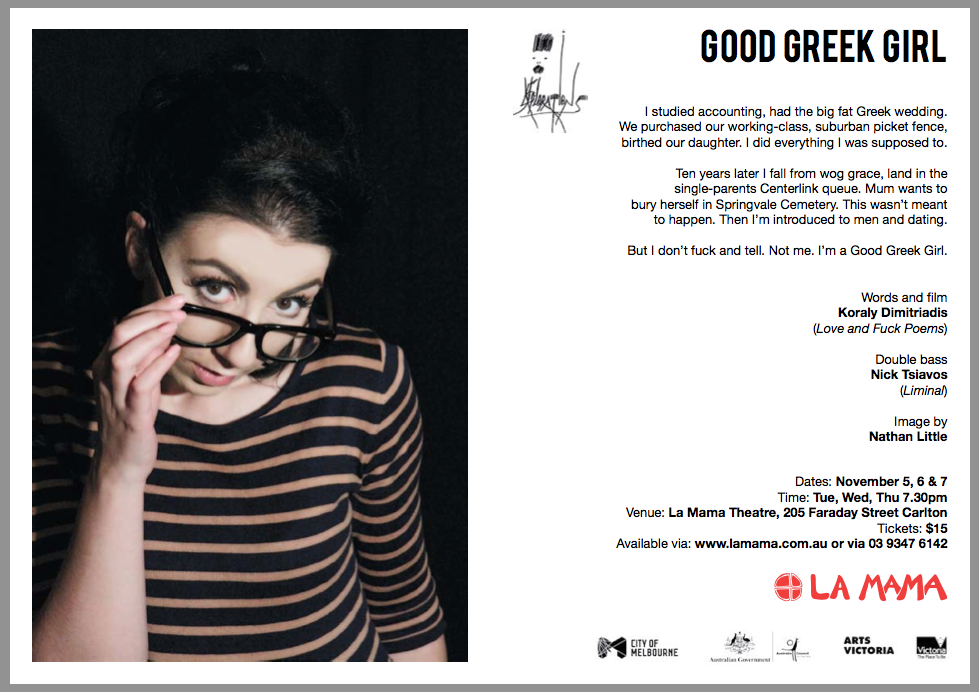 Photography by Di Cousens.