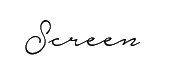 Koraly (a mockumentary) : I wonder if they'll make the TV show
Follow poet, writer and performer Koraly Dimitriadis in this hilarious black comedy as she stumbles through the perils of life, culture and men, after having TV rights optioned by a producer.
Koraly (a mockumentary) : I wonder if they'll make the TV show
 (2016) is Koraly's first unscripted feature pilot which she produced and co-directed with Zev Howley. It has been screened on Channel 31 numerous times. It features artists such as award-winning novelist Maxine Beneba Clarke, acclaimed cabaret performer and comedian, Amy Bodossian, Randall Stephens, Louise Monnington, and includes snippets of behind-the-scenes footage from one of her short films with Koraly's mentor of seven years, Christos Tsiolkas.
"I just want everyone I know to see it. And I want to watch it again."
– Steve Smart, slam poetry champion
The Good Greek Girl Film Project
As part of her ArtStart grant Koraly adapted four of her poems into films under the banner
The Good Greek Girl Film Project
. The poems were
Best Friend
,
Wog
,
How to get a fuck
and
Love according to wogs
. Koraly wrote, co-directed and produced the films. Nathan Little co-directed and was director of photography.
In November 2013 Best Friend was selected as part of the Greek Film Festival which toured nationally in Palace Cinemas. Love According To Wogs was screened as part of the 2014 Greek Film Festival. In 2105 How to get a f**k and Best Friend were selected for the Yarraville Short Film Festival and Love according to wogs was screened at Night Market Cinema at Queen Victoria Night Markets. In 2016 Wog was selected for the Greek Film Festival. All films were used as fillers on Channel 31 in 2016. This year in 2017 Best Friend was shortlisted in the Australian Online Video Awards in both the drama and performance categories.
The films include writers Christos Tsiolkas, Maxine Beneba Clarke, Amy Bodossian and Randall Stephens. Musicians Cam Hassard, Anthea Sidiropoulos also have parts, as well as actor Jim Koutsoukos. Locations include Tullamarine Airport, Carlton Cemetery, The State Library of Victoria, Coburg Market and Andre's Cafe in Coburg. Music was provided by Melpomeni and the album In A Strange Land by Greek-Australian musicians. The crew include Louise Monington (Muderdome)and Christian Bianco (Easy Tiger Studio).
These films can be viewed on her You Tube channel.
Showcast link for casting agents can be found here.