To get regular gig updates subscribe to Koraly's newsletter or follow her on social media.
Ascension Live: Relationships & Entrepreneurship
Saturday 3rd June 12:30-3pm
Facebook
Tickets

Emerging Writers Festival
The Female Gaze
Sunday 18th June 3pm
Four writers take on the critical feminist concept of the female gaze and question what it would take to bring it the forefront of film, art and culture. By making space for women to take the lead in shaping female protagonism, can we get one step closer to igniting a revolution to overthrow the patriarchy? Four leading ladies discuss gender politics in the arts.
Tickets
Poetic License
Forty Five Downstairs
20 June – 24 June 2017
A unique theatrical take on Aristophanes' ancient Greek masterpiece 'The Frogs', Irine Vela has assembled an impressive array of performers and musicians to reveal the power and limitations of words and to wrangle the timeless question – Can the spoken word move and inspire. Can it change anything?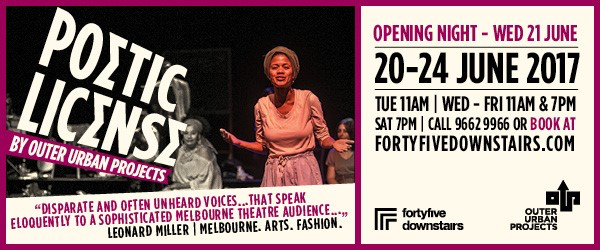 Visible Project Showcase (part of the Emerge in Yarra 2017 festival)
Sunday 2 July, 6 – 10.30pm FREE
Grumpy's Green, 125 Smith St, Fitzroy
Come and join us for the launch of the annual Visible album showcasing the eclectic sounds of Melbourne. The Visible Music Mentoring Program pairs emerging artists from refugee and other diverse cultural backgrounds with established artists and producers, to collaborate, exchange ideas and create new songs and film clips that pave a way into the music industry. Enjoy an afternoon of wicked music, performances and visuals from Neil Morris, Samina, Kaiit Waup, Cyprian Kagorora, poetry by Koraly Dimitriadis and more.
Connecting with Your Raw Honesty & Expressing it Poetically
Saturday 26th August, 10am – 4pm
The Good Room, Brunswick East
Early bird $155 general/$120 concession/ $110 TFA supporters
(valid until July 1st, 2017)
$190 general/$130 TFA supporters & concession
Polyester Books present Koraly Dimitriadis & Ben John Smith
koralydimitriadis
2014-03-07T08:45:07+00:00