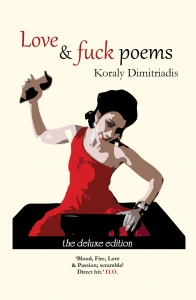 Sexually repressed, separated Greek Girl on a rampage. There's no love here just fucks. But is she fucking him or fucking herself? A trailblazing story told through poetry of culture, divorce, love and the maddening scurry to find the sexual self.
"The kind of honesty that can only come about after being wound-up, held writhing, repressed and silenced"
– Disclaimer Magazine (UK)
"An emotional self-examination with a hand-mirror."– AU Review
"I was hooked straight away."– Daily Review
"One of the brightest stars in the new poetry scene…A traditionalist's nightmare…searingly honest explorations of life…"– Junkee.com
"One poem might punch you in the balls where another leaves you trying to collect shattered pieces from a foetal position in the corner…a voice that literally demands to be heard."– Overland literary journal
"I am so obsessed with Koraly. Her work is disarming, emotionally fearless and she sounds like nobody else alive. I will read her poetry forever." – Hera Lindsay Bird, international bestselling poet
"A gutsy, defiant firecracker of a chapbook which demands to be read angrily out loud after half a bottle of red…An unashamed poetic celebration of one woman's liberation from the chains of marital convention, sexual repression, and cultural obligation."
– Maxine Beneba Clarke, Author Foreign Soil
"Love and Fuck Poems is raw, audacious and courageous. Bravo!"
– Christos Tsiolkas, Author The Slap.
"Wow. Dimitriadis pulls no punches here. This is armed-missile poetry."
– Kate Holden, Author In my Skin
"Blood, Fire, Love & Passion; scramble! Direct hit."
– TT.O., 24 Hours
Love and Fuck Poems is a best-selling poetry book in Australia. It has been translated and published in Greek (see below), with European Greek and English rights acquired in 2015 by Honest Publishing.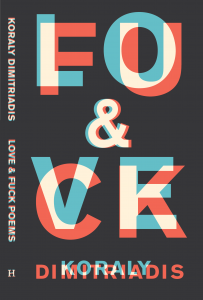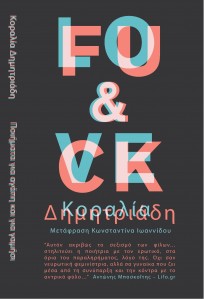 Love and Fuck Poems and ποιήματα για αγάπη και για γαμήσι 2016 for European editions.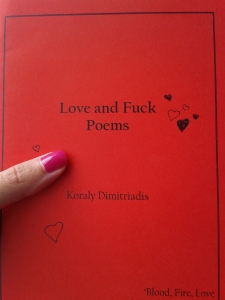 Love and Fuck Poems was born in July 2011. Koraly put together a red zine in the space of three months, just to have something to sell at her gigs. Little did she know it would keep selling. In July 2012 Koraly republished with Outside The Box Press as a Deluxe Edition book. The original zine is still circulating and will soon be phased out. It contains original drawings by Koraly.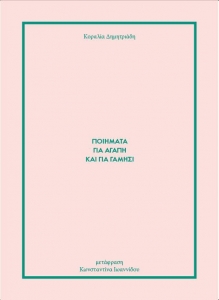 ποιήματα για αγάπη και για γαμήσι was published by ASTAMAN Publishers in 2014 with the support of the Australia Council.