Available in all good bookshops nationally.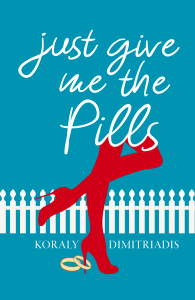 In a large, white-picket dream, a married mother selfishly cries. She has everything she ever wanted – a husband, a house, a business degree, a baby – she is at the pinnacle of the migrant dream. Perhaps she needs to return to her medication, the pills she stopped taking to become pregnant. She was taking them for six years. She wasn't allowed to move out of home so she married at twenty-two. Now she is thirty, and it's as if she is looking at her life for the very first time. She is starting to see things. The creativity she had kept buried inside all her life birthed out with her daughter, and now her words are taking on a life of their own.
From the author of the Australian poetry bestseller, Love and F–k Poems, Just Give Me The Pills is yet another brilliant novel-in-verse. It is a story of repression. It is a story of being silenced, and the terror of realising all the choices you've ever made are those you were expected to make, and you have no idea who you really are. It is a story of liberation, of rebuilding and finding one's true self.
"As an Australian of Greek heritage, I know how there can be a culture of silence around taboo subjects within our community. Sometimes this silence is necessary, to protect us from the wider community's insults and bigotry, but at other times it is violently imposed on the younger generations to restrict us from breaking out of archaic cultural norms. This kind of silence often feeds into a cycle of past traumas borne out of experiences of war and migration. I've always seen Koraly Dimitriades as, above all, a viciously fearless poet – and her new collection, 'Just Give Me The Pills' is no exception. For Koraly, a second-generation Cypriot-Australian woman, to openly navigate mental health, sexism, marriage, expectation and motherhood in such a vulnerable and clear way is a priceless moment for Australian writing. It makes me proud not just as a writer to know her, but also as a member of a community that desperately needs more vehemently honest voices like hers"
– Luka Lesson, Australian poetry slam champion
"Just Give Me the Pills is an extraordinary composition – a defiant portrait of untamed domesticity that is at once tender and fierce. This verse narrative traces the intimate triumphs and falls on one woman's journey from repression to self-realisation and silence to words, writing the domestic and inner space with a brutal honesty that is candid, unashamed and shockingly moving. Dimitriadis urgently speaks her truth in a voice that is brave, daring and uncensored – exposing herself entirely in an extremity of vulnerability and strength. A feminist anthem for social justice and self-love, Just Give Me the Pills teems with sexuality and bristles with rage – a riveting and compulsive read."– Bronwyn Lovell, Val Vallis award winner
To pre-order your personally signed copy (up until Christmas) click here.
(If you would like a different name please contact me via the contact page and let me know whose name you would like)
For book order inquiries or author visits email info@outsidetheboxpress.com
Distribution via Woodslane.