[one_half last="no"]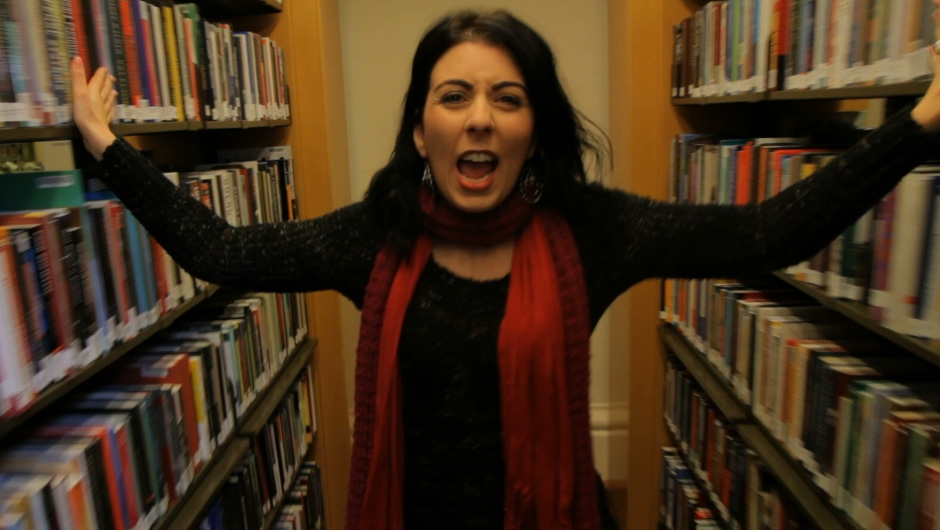 [/one_half]
[one_half last="yes"]Koraly received an Australia Council ArtStart grant in 2013. Some of this funding was used to adapt four of her poems into films: Best Friend, Wog, How to get a fuck and Love according to wogs.
Koraly wrote, co-directed and produced the films. Nathan Little co-directed and was director of photography. In November 2013 Best Friend was selected as part of the Greek Film Festival, a national film festival screened at Palace Cinemas. The films are currently being considered by other film festivals.[/one_half]
[one_half last="no"]The films include writers Christos Tsiolkas, Maxine Beneba Clarke, Amy Bodossian and Randall Stephens. Musicians Cam Hassard, Anthea Sidiropoulos also have parts, as well as actor Jim Koutsoukos. Locations include Tullamarine Airport, Carlton Cemetery, The State Library of Victoria, Coburg Market and Andre's Cafe  in Coburg. Music was provided by Melpomeni and In A Strange Land. Crew include Louise Monington (Muderdome)and Christian Bianco (Easy Tiger Studio).
You can read more on the project on Koraly's Blog in the articles Love according to wogs and Wog.[/one_half]
[one_half last="yes"]

[/one_half]
[title size="2″]Photo Gallery[/title]
View a selection of stills from the movie series and behind the scenes photographs by Kaliopi Malamas.
[images lightbox="yes"]
[image link="http://koralydimitriadis.com/wp-content/uploads/2014/03/aislemelbair.jpg" linktarget="_self" image="http://koralydimitriadis.com/wp-content/uploads/2014/03/aislemelbair.jpg" alt=""]
[image link="http://koralydimitriadis.com/wp-content/uploads/2014/03/rainbowcemetary.jpg" linktarget="_self" image="http://koralydimitriadis.com/wp-content/uploads/2014/03/rainbowcemetary.jpg" alt=""]
[image link="http://koralydimitriadis.com/wp-content/uploads/2014/03/struggling-to-get-in-the-car.jpg" linktarget="_self" image="http://koralydimitriadis.com/wp-content/uploads/2014/03/struggling-to-get-in-the-car.jpg" alt=""]
[image link="http://koralydimitriadis.com/wp-content/uploads/2014/03/koralymirror.jpeg" linktarget="_self" image="http://koralydimitriadis.com/wp-content/uploads/2014/03/koralymirror.jpeg" alt=""]
[image link="http://koralydimitriadis.files.wordpress.com/2013/08/p1020676.jpg?w=474&h=207″ linktarget="_self" image="http://koralydimitriadis.files.wordpress.com/2013/08/p1020676.jpg?w=474&h=207″ alt=""]
[image link="http://koralydimitriadis.files.wordpress.com/2013/08/p1020693.jpg?w=474&h=224″ linktarget="_self" image="http://koralydimitriadis.files.wordpress.com/2013/08/p1020693.jpg?w=474&h=224″ alt=""]
[image link="http://koralydimitriadis.com/wp-content/uploads/2014/03/goodgreekgirlfilmpage.jpg" linktarget="_self" image="http://koralydimitriadis.com/wp-content/uploads/2014/03/goodgreekgirlfilmpage.jpg" alt=""]
[image link="http://koralydimitriadis.files.wordpress.com/2013/08/mvi_1683.jpeg?w=474″ linktarget="_self" image="http://koralydimitriadis.files.wordpress.com/2013/08/mvi_1683.jpeg?w=474″ alt=""]
[image link="http://koralydimitriadis.files.wordpress.com/2013/08/mvi_1700.jpeg?w=474″ linktarget="_self" image="http://koralydimitriadis.files.wordpress.com/2013/08/mvi_1700.jpeg?w=474″ alt=""]
[image link="http://koralydimitriadis.files.wordpress.com/2013/08/mvi_1710.jpeg?w=474″ linktarget="_self" image="http://koralydimitriadis.files.wordpress.com/2013/08/mvi_1710.jpeg?w=474″ alt=""]
[image link="http://koralydimitriadis.com/wp-content/uploads/2014/03/christos.jpg" linktarget="_self" image="http://koralydimitriadis.com/wp-content/uploads/2014/03/christos.jpg" alt=""]
[image link="http://koralydimitriadis.files.wordpress.com/2013/08/statelibrary7.jpg?w=474″ linktarget="_self" image="http://koralydimitriadis.files.wordpress.com/2013/08/statelibrary7.jpg?w=474″ alt=""]
[/images]
[title size="2″]Sponsors[/title]