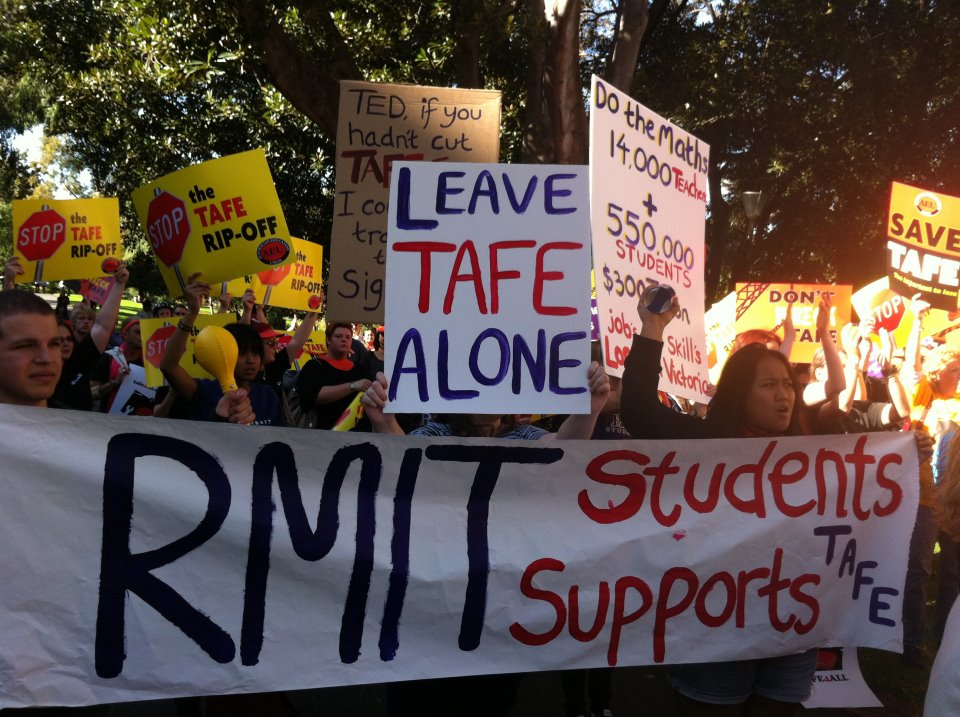 When I heard about the recent budget announcement regarding the TAFE sector I was dumbfounded. Could Premier Baillieu be that cruel? When former Premier Brumby introduced the skills reform in 2009 I thought nobody could be more stupid. But apparently, someone can. Baillieu has just hammered yet another nail into the TAFE coffin, $300 million slashed after $40 million last October, and soon, we're all going to be mourning at the funeral as TAFES become just part of Australian history books.
The strange thing is, everyone knows Brumby stuffed things up with the skills form. Implemented for the sole reason of combating the skills shortage in Victoria, opening up the TAFE sector to compete with smaller private institutions and universities actually had the reverse effect with TAFE enrollments dropping significantly. To fund Brumby's venture, students at TAFE would be charged higher fees and if the students held a higher qualification, the fees were astronomical, close to what you would pay at university. HECS-style loans would be available but a student might then just decide to go to university, or maybe, not study at all.
This change has severely affected the Arts. This is what I don't understand. If the government know that the city of Melbourne has the most vibrant arts scene in Australia, if we, are the UNESCO city of literature, why do we not preserve this? I have studied at both university and TAFE and I can say with absolute confidence that art is better suited to TAFE teaching. Killing TAFE will stab at the arts. People will either choose not to study at TAFE because of the cost, or they will study at university and kill their creativity with academic theory.
Having faith that a different leadership could undo the damage was naïve on my part. What's sad is that the problem could have been fixed another way. See, apart from curbing enrollments at TAFE the skills reform also had another adverse reaction: smaller, private institutions exploded. These 530 institutions outnumber our 18 TAFES. These budget cuts are across TAFE and these private institutions. My questions is why do these private institutions even get funding to begin with? Some of these institutions actually offer cheap short courses as an alternative to TAFE. So can I open up my own institution and offer diplomas? What our government should have done to protect our TAFES is to care about them, just as they did the automotive industry when it was suffering. By enforcing tighter regulations on these private institutions they would steer more people towards TAFE.
Now we are going to see TAFE job losses across the board, course closures, the end of TAFE. Certainly there would have been a better solution to this? Lazy leadership reigns once again.
You can FIGHT back. It's as easy as clicking this link and typing in your postcode.